BYD Cares
BYD Care 3 PLY Single-Use Face Mask *10
Regular price
$9.99
$0.00
Unit price
per
Tax included.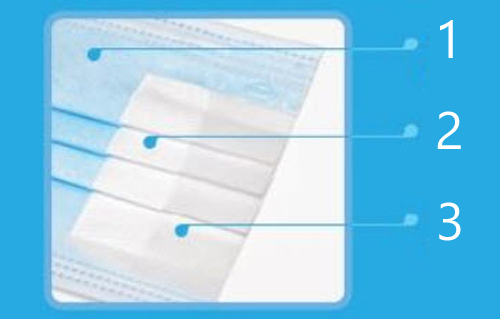 Product Introduction
BYD single-use face masks consist of three layers of nonwoven material:
1. Outer Layer: Blue polypropylene spunbond nonwoven
2. Middle Layer: Polypropylene melt-blown nonwoven with pathogen filtering
3. Inner Layer: White polypropylene spunbond nonwoven.
Suitable for general use, blocking both the exhalation and inhalation of pathogens and airborne liquid droplets expelled by coughing, sneezing and respiration.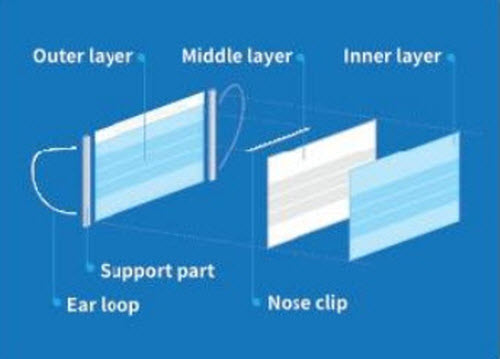 Product Specifications
1. Mask length: > 170 mm
2. Mask expansion width: 165 mm. Post-stack width is 95 mm with three stacks in the middle. Each stack width is not less than 10mm. The nose clip is located on the upper edge of the mask, and the outside of the mask is darker in color.
3. The width of the support part is not more than 10mm, and the position of the upper nose clip is not more than 16 mm.
4. Nose clip: length > 80 mm; width approximately 3 mm.
5 Ear loop: 180 mm in length and 3 mm in diameter, composed of polyester, spandex and other materials, welded on the inner layer not more than 10 mm from the edge.
Parameter of BYD Single-use face mask
Name
Parameter
Product Name
Single-use face mask
Material
Polypropylene spunbond nonwoven, polypropylene melt-blown nonwoven, metal core plastic nose clip, elastic polyester spandex ear loops
Model
Flat
Size
175 mm * 95 mm
Product application scope and purpose
For protection against inhalation of pathogens and airborne liquid droplets
Expiration date
2 years after date of production
Packaging specification
10 per pack and 5 packs per box
Sterilization
Non-sterile, one-time use only
Usage

1. Flatten the mask and put both ear loops on your ears.
2. Bend the nose clip to match the shape of the nose to prevent unfiltered air from entering.
3. Pull the mask to the lower jaw to produce a tight seal




Contraindication

This device is not designed, sold or intended for use except as indicated. This mask is not a respirator. 


Warning 
This mask does not eliminate the risk of contracting any disease or infection. Change immediately if cantamninated with blood or body fluid. 




Important Limitation 

1. Please use the product within the period of validity

2. One-time use only, please dispose of after use according to regulations. 

3. Do not use if packaging is damaged. 

4. Those who are allegic to nonwovens should use it with caution.

5. Please read the instructions carefully before using. 

Storage
Store in a well-ventilated place with relative humidity below 80%; avoid high temperatures and exposure to flame.
Standards
TGA Listed ARTG 332299
EN 14683 Type II CE
---